"Ugh just give us a win!" The frustration of the Italian National team. I'm sure they are probably saying that right now if they've recovered from their very hard played game loss to Spain the other day.
Uruguay on the other hand seem to be ready, and prepared for anything. I would say they want to go out for vengance. But they can't really do that against Brazil since they are in the final against Spain. But what team other than Brazil and Spain can Uruguay take their frustrations out on… oh Italia!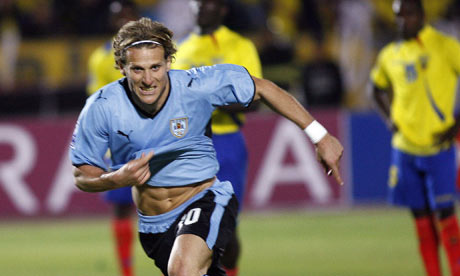 If I were an Italian team player right now I would probably feel like a zombie. It just seems like they can never ever win a championship title. I mean come on they are a great team and all but what the heck. They were sooooo close to defeating spain! So close, and then bam, you miss a very, very crucial penalty kick, you lose, and then woops all of Italy hates you.
But you know what. I'm hoping for a great game played by both sides tommorow during the third place game between Italy and Uruguay. I almost forgot that they were even playing. I'm so excited for the Brazil vs Spain championship game, it didn't even cross my mind.
You know Uruguay is a good team. They almost beat Brazil, and definitely could have beaten Brazil. From watching that game, Brazil had some great actors. And if you know anything about football/soccer you would know what I mean by actors. Falling on the ground after you get tripped like you just got ran over by a car. Brazil seems to be great for that… but that's another time and another article.
Going back to Uruguay and Italy. As I said before Uruguay seems like a fresh team. They probably more than anything want a metal. I mean I think any team would honestly want a metal, or go home crying otherwise. Other than Tahiti, I loved watching Tahiti they put a smile on my face every time I watched them play. A lot of teams should learn from them. And I will continue to say that.
Even when Tahiti came in last place, and had an embarrassing defeat to Spain they had a smile on their face till the very end.
What I'm trying to say is that even though this game is a third place game. These teams should be happy anyway. They are doing what many, many footballers want to do in the world. They are the role models of the footballing world. They are icons. Players such as El Shaarawy and Mario Balotelli of Italy should not even have a mad face because honestly, they know they are young, and they will be the best. One day without a doubt Italy will break their bad spell. Without a doubt. Most likely those two players, and many more on the lower level will be playing for a very long time. They are in their early twenties, their careers are just beginning.
Just look at the best players in the world. Cristiano Ronaldo and Lionel Messi. Many will say that they will never, ever get a European Championship (Ronaldo), or a Confederations Cup championship, or a World Cup championship. But at the end of the day, they know they are good and still have many, many more years of footballing for them. They may have mad faces sometimes but they also smile and move on with their lives.
Tomorrow on ESPN 2, at 11:30 tune in for the third place game of the Confederations Cup. I call this game Vengeance. Both teams are hurting, and their rivals are playing in the final. It will be a good and passionate game. Or it could turn out to be a boring and slow game. But most likely one team will win, and one team will redeem themselves.