Animals come in all shapes and sizes: Owls, newts, panda bears, bamboo shrimp, whale sharks…planet earth is diverse. Correspondingly, animal attacks also come in a wide variety of shapes and sizes. Animal attacks range from, say a lil monkeys pulling a cute girl's dress down…..

…to a chimp literally eating the face of its owner.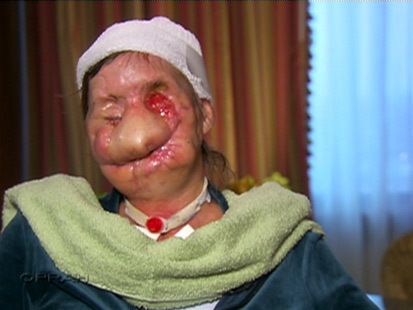 At least she survived. The same cannot be said for some of King Arthur's company. Tim the Enchanter knows the danger of animals. Nasty, big, pointy teeth!

The video below is a humorous compilation of animal attacks. Some are cute attacks and hump attacks. Some of these people, nearly get their sh*t eaten.
Even worse than an animal attack is a Zombie attack!
You all remember ow blind, Ron Poppo, the Miami cannibal victim? He has spent much of the last year recuperating at the Jackson Memorial Perdue Medical Center, a long-term care facility in Cutler Bay. Poor Ron was victim of the bath salt zombie.
when animals attack compilation